As you can see Kitty has always been a photogenic bitch even from puppy hood. She is not a flashy bitch but a bitch who is put together well, she has small ears, almond shaped dark eyes, nice tight feet, solid topline, is clean coming and going and a sweet temperament. She has done very well for us in the show ring and has been out as a special on and off. As a veteran she has won a Veteran Best in Show. She has also done well for us in the whelping box. He first litter is a all champion litter - AKC CH/UKC CH Tammen's Tri N Top This, AKCGCH/MBIS Int. & Nat. CH/RBIS UKC CH Tammen's Take Me On and DC Tammen's Can't Touch This, NA, NAJ,CGC, SC,RE,JOR,ORC,GRC, OA, OAJ - BCOA Versatile Basenji Excellent. Her second litter she produced BOSS, BISS Brace, Group Placing, AKC CH/MBIS Puppy Int. & Nat. CH/MBIS Int. CH/MBIS/MRBIS UKC Gr CH Tammen's Sparks Will Fly AOE (Eukanuba 2011) and also CH Tammen's Born In The USA for Illusions. After two beautiful litters Kitty has been retired from the breeding program.

Health Info:
BJ-PA30/24F/P-PI PATELLA NORMAL - PRACTITIONER
BJ-1360G24F-PI HIPS GOOD
BJ-974 CERF CERF Breeder's Option Code(s):
D3a-Iris, persistent pupillary membranes- iris to iris
BJ-TH67/48F-PI THYROID NORMAL
BJ-FAC187/72F-PI FANCONI SYNDROME CLEAR/NORMAL FOR FANCONI SYNDROME
BJ-PRA134/142F-VPI PROGRESSIVE RETINAL ATROPHY BASENJI NIGHT BLINDNESS/PRA: NORMAL
CHIC#44237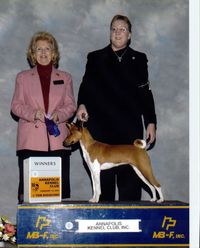 Outcross - 25% African - Fanconi clear
Outcross - 50% African - Fanconi Probable carrier - First 50% African to receive a AOM.
The offspring of AKC CH/Veteran BIS/RBIS UKC GCH Tammen's Whaz Up Pussycat BBHR
(Click on picture of offspring to view that dogs webpage)
Offspring by Eng. CH
AB-SS Money to Burn at Shernazar SDHR
Whelped August, 17, 2006
DC Tammen's Can't Touch This NA,NAJ,RE,SC,VBX,CGC,JOR,ORC,GRC,BN, OA, OJ
AKC GCH/ MBIS & MRBIS Int. & Nat. CH/RBIS UKC CH Tammen's Take Me On