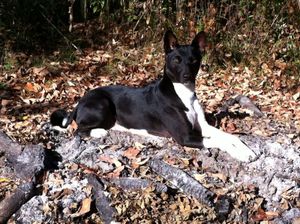 DC Tammen's Can't Touch This BN RE SC OA OAJ CL1 CL2 GRC ORC TKI NW2 TDI CGC MVB 
(HIT BCOA Nationals 2014)
Health Testing BJ-FAC442/65M-NOPI FANCONI TEST CLEAR/NORMAL

DUAL CHAMPION
RALLY EXCELLENT
NOVICE AGILITY JUMPER
NOVICE AGILITY
SENIOR COURSER
BCOA VERSATILE BASENJI EXCELLENT
JUNIOR OVAL RACER
OVAL RACER CHAMPION
CANINE GOOD CITIZEN
GAZEHOUND RACING CHAMPION
BEGINNER NOVICE TITLE
OPEN AGILITY STANDARD TITLE
OPEN AGILITY JUMPER
CPE LEVEL 1
NOSE WORK 1 TITLE
BCOA MASTER BASENJI EXCELLENT
HIT - BCOA Nationals 2014
NOSE WORK 2 TITLE
NOSE WORK 3-C
NOSEWORK 3-V
TRICK DOG NOVICE
TRICK DOG INTERMEDIATE

 
Arrow is living up to his name and being a boy who you can't touch in the performance world. Arrow (AKA - Black Bart) is a sweet little boy who is eager to please that is living with Susan Cook and her other Basenjis Aubrey and lots of his cat friends in Wisconsin. Now since Arrow is finished his AKC Championship and is our first dual CH and also our first BCOA Versatile Basenji Excellent and also our first High In Trial Basenji. He will continue to work on his performance events where he and his owner Susan excel. His Fanconi results are clear.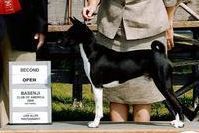 Line bred 3/2 on CH AB Lazer the Mischief Maker SDHR - 12% African - Fanconi Clear
Dog World/Royal Canin Top Stud Dog 2007 Eyes: PPM, Clear Haemolytic Anaemia: Clear, by DNA test Hips: BVA/KC 4:4 (equivalent to OFA Good) Fanconi Syndrome: Probable Carrier

Outcross - 25% African - Fanconi clear

Outcross - 50% African - Fanconi Probable carrier - First 50% African to receive a AOM.